It is B2C (USA) email marketing list belongs to Health and Fitness niche (weight loss to be precise).
This file consists of consumers who want to lose weight. They have purchased weight loss products with a credit card. These weight conscious individuals is a ideal audience for weight loss products This list is ideal for any type of weight loss products, diet related offers. This file can be used for direct mail, E-mail marketing or Affiliate marketing.
This Weight Loss Email Lists & Mailing Lists help connect you with Consumers anywhere in the USA. Weight Loss Leads are Consumers who are most likely to interest in Diet or Weight Loss related products & services.
And This list has people from all across the USA who recently(July 2020- May 2022) have purchased weight loss, and other fitness related products online.
Get more Customers and Boost sales with 100% Opt-In Weight Loss Leads.
YOu will get 600k weight loss Yoga and fitness email data of USA
This list is last updated on 2022. All the leads are from USA. All these leads are collected through our Advertisement Campaign for weight loss products.
Details about Email Leads:-
1) Gender:- 73% women ,24% men and 3% other.
2) Age:- 25 to 54 years
3) Household Income:- Top 50% of ZIP Codes (USA)
4) Country:- USA
5) List is Updated & bounce tested
List includes email address, First and Last Name, (See the Gallery Pic tp get the idea)
Most suitable for, Companies who want to promote their fitness products through email marketing, Gym Owners, Online Fitness Services, Yoga Classes, Affiliate Marketers, etc.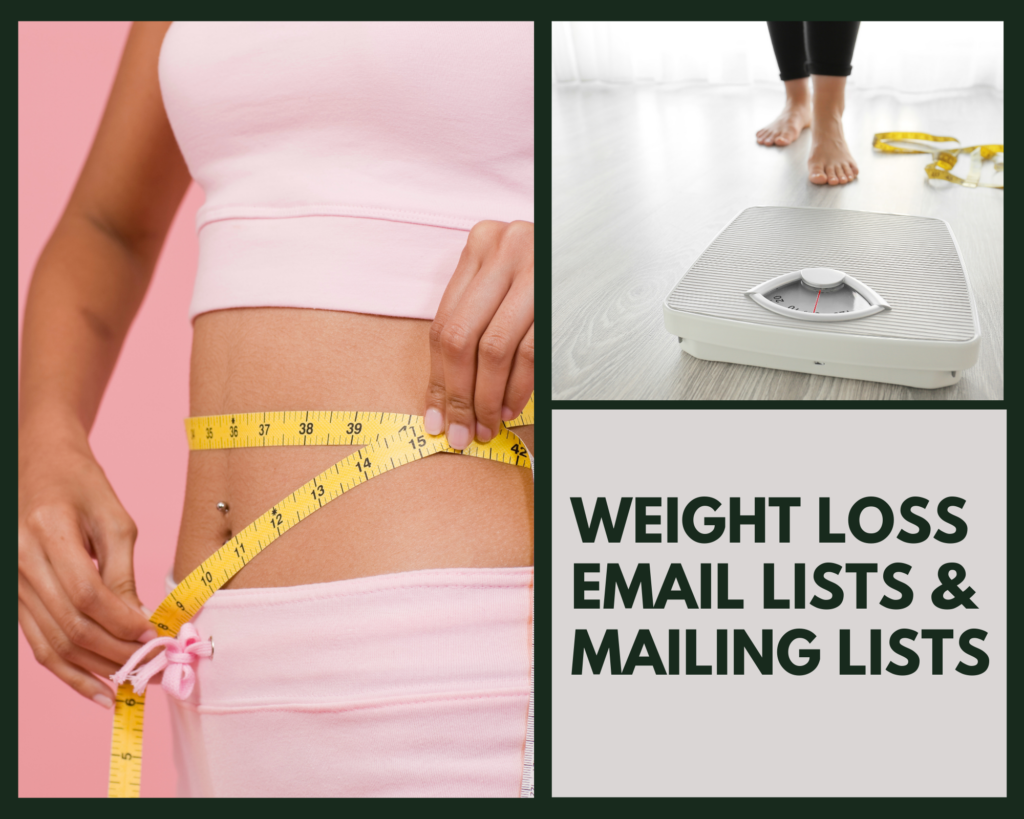 ##########################################################################
Weight Loss Email Lists & Mailing Lists help you to connect with Consumers who want to lose weight.
What is a Weight Loss Email List & Mailing List?
It is a marketing list that includes the Names, Postal Mailing Addresses and Email Addresses of Consumers who have expressed an interest in losing weight and weight loss one or more times in the past 12 months.
How do you know if someone is interested in Weight Loss? How do they get on these Lists?
Our Weight Loss Leads and Weight Loss Emails are compiled from 100's of different sources.
The majority of weight loss and diet leads, are compiled from online and in-store purchases.
So, for example, if a Consumer purchases weight loss supplements online they may 'check' a box during the checkout to acknowledge and opt-in to receive future marketing related to weight loss. If they do accept and opt-in, their contact information will be added to our Weight Loss Lists.
These are the most common sources for Consumers Interested in Weight Loss:
Weight Loss Related Purchases Online
Weight Loss Related Purchases In-Store
Magazine subscriptions
Gym Memberships
Wellness & Weight Control Centers
Diet & Wellness Retreats
Surveys
Why should I buy Weight Loss Email Lists?
If your business is in the Weight Loss, Dieting or Fitness Industries and you want to get more customers and boost sales, then you should buy weight loss email lists.
The email list for weight loss product buyers immediately connects you with Consumers who are most likely to want to know about your services/products.
IMMEDIATE SHIPMENT BY EMAIL
ORDER NOW!
LIMITED TIME OFFER!
THANK YOU FOR YOUR CONFIDENCE!